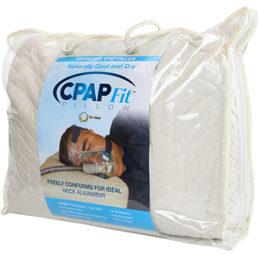 CPAPfit Pillow
CPAPfit Pillow
$59.99
Designed by a CPAP patient and proven and improved on the cpaptalk forum, the Pur-Sleep CPAP pillow uses an innovative, modified buckwheat hull design with a three-layer quilted pillow shell. 
Buckwheat hulls are shapeable, naturally antimicrobial, hypoallergenic, become polished with use, and stay cool and dry.  They allow you to create a nook for your bulky CPAP mask.
Three-layer, quilted cotton cover filled with triple-cleaned, natural, buckwheat hulls, blended with foam for added comfort
- Gusset design plus shapeable fill conforms to any shape and holds that shape all night long
- With a large zipper opening, it's fully adjustable to suit ANY sleeping position-side, back, or stomach
- Extra filling provided so your pillow will never go flat.
- Extra shredded foam available for comfort adjustment
- Fill does not push back against your head, so there are no pressure points and no sore neck
Fits Any Standard Pillow Case
Machine Washable
10 Year Warranty
PATENTED